Welcome to Class 2!
Intent
In EYFS it is our aim to provide an outstanding Catholic education with Christ as our light and guide. Our curriculum is designed around our Christ centred vision.  We want to create a happy and stimulating learning environment – from the warm welcome on the door, the calm routines and free flow learning. Children are welcomed into an enabling environment that allows them to learn, feeling safe and nurtured.
Our curriculum is built around half termly themes linked closely to our RE topics. We have highly skilled, enthusiastic staff who see every moment as a learning opportunity. We understand our crucial role as laying the foundation stones for each child's journey with us both in terms of the child's learning and development.
Our learning environment, both inside and outside, is adapted regularly to meet the needs of the children in our care. We ensure these areas are always stimulating and exciting and accessible to all, regardless of where children are on their learning journey. We carefully structure our day to balance short adult-led learning with longer child-led lessons. We expect both approaches to foster the characteristics of effective learning and produce deep learning.
Early Years Foundation Stage (EYFS)
The EYFS is based on 4 overarching principles which shape good practice in early years settings:
A unique child
Every child is a unique.  They are consistently learning and can be resilient, capable, confident and self-assured.
Positive relationships
Children learn to be strong and independent through positive relationships.
Enabling environments
Children learn and develop well in environments where their experiences respond to their individual needs and there is a strong partnership between practitioners and yourself as a parent and/or carer.
Children learn and develop in different ways and at different rates
The framework covers the education and care of your child within the early years setting, including children with additional needs.
The activities and experiences that we provide for your child will underpin the skills they need to work towards the Early Learning Goals in the following 7 areas:
Prime Areas:
• Communication and language
• Physical Development
• Personal, social and emotional development
Specific Areas:
• Literacy
• Mathematics
• Understanding the World
• Expressive Art and Design
Forest School
During our Forest School sessions, we provide opportunities for children to explore and experience the natural world through practical activities and experiences. We build on a child's curiosity to explore, communicate, experiment and learn. We encourage children to make choices, take risks and reflect on their experiences as an individual and as part of a group.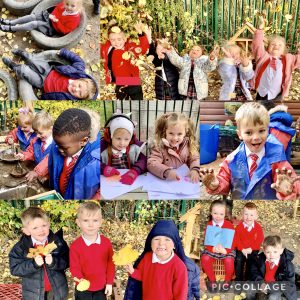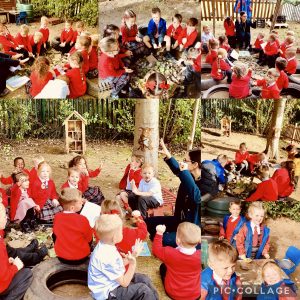 What to expect, when?
The purpose of this booklet is to help you as a parent/carer find out more about how your child is learning and developing during their first five years, in relation to the EYFS.
The document includes information about your child's next steps and ideas of how you can support them in each area of learning.
Documents and Downloads
Early Years Newsletter Spring 2022
Early Years Newsletter Autumn 2021