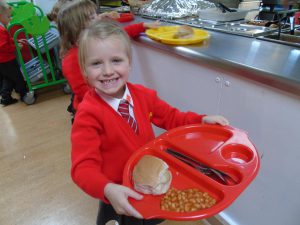 Our school meals are always fresh, very nutritious, and a great value for money. They are prepared and served by the Catering Services department of the Development and Neighbourhood Services division of Stockton Borough Council.
School meals cost £2.05 per day (£10.25 per week) and are payable on a Monday. Please pay for dinners per week or per month. Dinner money envelopes are available from the school office.
Key Stage 1 children are entitled to a free school meal.
As part of our continuous striving to improve school meals we have introduced a new and improved system into school to provide better and easier choices for children at lunchtimes. Weekly menus are available via the Stockton council website using the link above – this gives you an opportunity to discuss your child's meal preferences.
To compliment this new system we have introduced a coloured sticker system which will ensure children get the meal of their choice on a daily basis and bring a more relaxed and fun element to lunchtime arrangements whilst at the same time encouraging independence and less food wastage.