Special Educational Needs and Disabilities
All About Us
Welcome to the 'Special Educational Needs and/or Disabilities (SEND) section of Christ the King Catholic Primary School website.  We hope to provide you with the information you need on the variety of ways our school is able to support SEND pupils to reach their full potential.
Our Special Educational Needs Co-ordinator (SENDCO) is Mrs Darragh. She can be contacted on 01642 765639 or by email to [email protected] 
All staff at our school are committed to providing the best learning opportunities for all children. We work with parents, carers and a range of professionals to ensure the best education for all.
Our School Vision:
To provide an outstanding Catholic education with Christ as our light and our guide.
What are Special Educational Needs?
'A child has special educational needs if he or she has learning difficulties requiring special educational provision to be made.'
 A child has learning difficulties if he or she:
has a significantly greater difficulty in learning than the majority of children   the same age.

has a disability which prevents or hinders the child from making use of educational facilities of a kind provided for children of the same age in other schools in the Local Authority.
SEND Code of Practice, 2014
Who to contact if you are concerned about your child?
Speak to your child's class teacher.

If you are still concerned you can make an appointment to meet with the SENDCO, Mrs Darragh. 
A Graduated Approach to SEND
Christ the King School follows a graduated approach, as advised by the local authority, to meeting special needs that requires the initial use of classroom and school resources before bringing specialist expertise to help with the difficulties that a student is experiencing.
A process of on-going teacher assessments and termly pupil progress meetings with the leadership team identifies those pupils making less than expected progress given their age and individual circumstances. The school's first response is high quality targeted teaching by the class teacher.
Where progress continues to be less than expected, the class teacher will discuss their concerns with the SENDCO. In deciding whether to make special educational provision, the teacher and SENDCO will consider all of the information gathered from within the school about the pupil's progress, alongside the views of parents/carers and the pupil.
During this stage, extra teaching or interventions may be put in place as a pupil's response to such support can help to identify their particular needs.
Assess, Plan, Do and Review cycle
In terms of children with SEND, the school follows the 'assess, plan, do and review' cycle.
Assess: We will ensure that we regularly assess all pupils' needs so that each child's progress and development is carefully tracked compared to their peers and national expectations. We will listen to the views and experience of parents/carers and the pupil. In some cases we will draw on assessments and guidance from other education professionals e.g. Educational Psychologists (EP) and from health and social services.
Plan: Where SEN Support is required the teacher and SENDCO will put together a plan outlining the adjustments, interventions and support which will be put in place for the pupil as well as the expected impact on progress and outcomes, including a date when this will be reviewed. Targets for the pupil will be shared with her/him using child friendly language and with parents/carers. All staff who work with the pupil will be made aware of the plan.
Do: The class teacher is responsible for working with the pupil on a daily basis. She/he will also liaise closely with TAs or specialists who provide support set out in the plan and monitor the progress being made. The SENDCO will provide support, guidance and advice for the teacher.
Review: The plan including the impact of the support and interventions will be reviewed each term by the teacher, SENDCO, parent/carer and the pupil. This will inform the planning of next steps for a further period or where successful the removal of the pupil from SEN Support.
This four-part cycle through which earlier decisions and actions are revisited, refined and revised with a growing understanding of the pupil's needs and what supports the pupil in making good progress is known as the graduated approach. It draws on more detailed approaches and more specialist expertise in successive cycles.
The Four Areas of Need
The SEN Code of Practice, Chapter 6, recognises that children and young people's needs and requirements fall into four broad areas:
Communication and Interaction – these children have a difficulty in communicating with others. This could be due to a speech and language difficulty or this may be because they have difficulty saying what they want to, understanding what is being said to them or they do not understand or use social rules of communication.
Cognition & Learning – children with learning difficulties learn at a slower pace than their peers, even with appropriate differentiation. Learning difficulties cover a wide range of needs from moderate learning difficulties (MLD) to children with profound and multiple learning difficulties (PMLD). Specific learning difficulties (SpLD), affect one or more specific aspects of learning, such as dyslexia, dyscalculia and dyspraxia.
Sensory & Physical – some children require special educational provision because they have a disability which prevents or hinders them from making use of the educational facilities generally provided. Many children with vision impairment (VI), hearing impairment (HI) or a multi-sensory impairment (MSI) will require specialist support and /or equipment to access their learning.
Social, Emotional and Behaviour difficulties  – children may experience a wide range of social and emotional difficulties which manifest themselves in many ways. These may include becoming withdrawn or isolated, as well displaying challenging, disruptive or disturbing behaviour. These behaviours may reflect underlying mental health 3 difficulties such as anxiety or depression, self-harming, eating disorders or physical symptoms that are medically unexplained. Other children may have disorders such as attention deficit disorder (ADD), attention deficit hyperactive disorder (ADHD) or attachment disorder.
Partnership with Parents
At Christ the King we firmly believe in developing strong partnership with parents and know that mutual trust and support will contribute significantly to the progress and attainment of all children, especially children with SEND. We know that parents have a unique overview of their child's needs and this gives them a key role in supporting their child.
Parents are consulted about their child's needs as soon as the school has identified a cause for concern. Working in collaboration and supporting parents is central to our mission.
When a child is placed on the register, parents are invited into school each term to discuss strategies used and progress made. There are opportunities for a consultation with the class teacher once a term.
Teachers will arrange termly meetings with parents/carers of children on the SEND register in order to discuss progress, look at targets for their Short-Term Target Plan and simply chat about how their child is getting on. At this point, parents will have the opportunity to discuss any concerns they may have. The SENDCO may be asked to attend these meetings if needed.
Our SENDCO, Mrs Darragh is more than happy to meet with parents to discuss their child's needs.
Accessibility
Our school is wheelchair friendly. We have a disabled toilet and access to changing facilities.
Advice can also be found from Stockton Parent Carer Form here, who are 'made up of parents and carers of children and young people with SEND aged 0-25 years living in Stockton on Tees. We volunteer our time to work alongside strategic bodies, service providers and commissioners to ensure that the needs of children, young people with SEND and their families are being met.'
There is also the SENDIASS service here, which 'is a free, impartial and confidential service. We provide advice, information and support on all matters relating to special educational needs and disabilities (SEND) to: Parents of children and young people with SEN or disability, Children with SEN or a disability, Young people up to the age of 25 with SEN or a disability'
Our SEND Policy: SEND policy
Click the logo below for our Special Education Needs and Disabilities school offer and information report: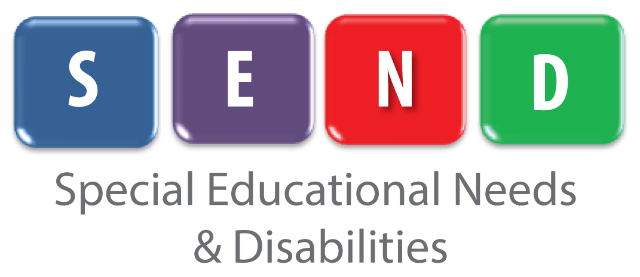 Click on the logo below for the Stockton LA SEND offer: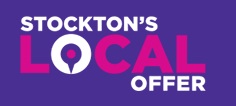 Download What is Autism?